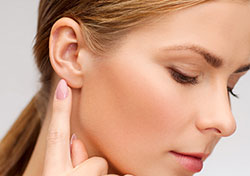 For many of our patients, Dr. Makhlouf is able to do the procedure under local anesthesia in our Chicago office. The procedure is painless and will take 45 minutes for each ear. The incisions are made in the posterior aspect of the ear so they are invisible. Postoperative care is very minimal. Two days after the surgery the bandages are removed and the only post-op requirement is that for 2 months after surgery, the patient must wear some type of bandana during sleep, in order to protect the ears.

Care and Recovery
The results of this procedure are visible immediately. The ears may remain sensitive for a couple of months but this will not result in any significant amount of pain.
Other Issues in the Ear
There are other conditions in the ear that we correct, for example: torn earlobes, Keloid in the ears, and various congenital deformities. A call to the office or a tele-medicine consultation is a good place to start your investigation.